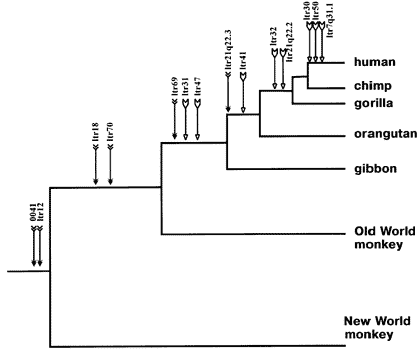 Endogenous retroviruses provide yet another example of molecular sequence evidence for universal common descent

. Endogenous retroviruses are molecular remnants of a past parasitic viral infection. Occasionally, copies of a retrovirus genome are found in its host's genome, and these retroviral gene copies are called endogenous retroviral sequences. Retroviruses (like the AIDS virus or HTLV1, which causes a form of leukemia) make a DNA copy of their own viral genome and insert it into their host's genome.

If this happens to a germ line cell (i.e. the sperm or egg cells) the retroviral DNA will be inherited by descendants of the host

. Again, this process is rare and fairly random, so

finding retrogenes in identical chromosomal positions of two different species indicates common ancestry

.



Confirmation:



In humans, endogenous retroviruses occupy about 1% of the genome, in total constituting ~30,000 different retroviruses embedded in each person's genomic DNA (Sverdlov 2000).

There are at least seven different known instances of common retrogene insertions between chimps and humans

, and this number is sure to grow as both these organism's genomes are sequenced (Bonner et al. 1982; Dangel et al. 1995; Svensson et al. 1995; Kjellman et al. 1999; Lebedev et al. 2000; Sverdlov 2000). Figure 4.4.1 shows a phylogenetic tree of several primates, including humans, from

a recent study which identified numerous shared endogenous retroviruses in the genomes of these primates (Lebedev et al. 2000). The arrows designate the relative insertion times of the viral DNA into the host genome. All branches after the insertion point (to the right) carry that retroviral DNA - a reflection of the fact that once a retrovirus has inserted into the germ-line DNA of a given organism, it will be inherited by all descendents of that organism

.

The Felidae (i.e. cats) provide another example. The standard phylogenetic tree has small cats diverging later than large cats.

The small cats

(e.g. the jungle cat, European wildcat, African wildcat, blackfooted cat, and domestic cat)

share a specific retroviral gene insertion. In contrast, all other carnivores which have been tested lack this retrogene

(Futuyma 1998, pp. 293-294; Todaro et al. 1975).



Potential Falsification:





It would make no sense, macroevolutionarily, if certain other mammals (e.g. dogs, cows, platypi, etc.), had these same retrogenes in the exact same chromosomal locations

. For instance, it would be incredibly unlikely for dogs to also carry the three HERV-K insertions that are unique to humans, as shown in the upper right of Figure 4.4.1, since none of the other primates have these retroviral sequences. -- 29+ Evidences for Macroevolution: Part 4
So there you have it. One more excellent source of evidence for evolution. Well, either that or an Intelligent Designer who's trying to trick us into believing in evolution.